Reading for fun, threads over the years of scifi, history, social movements and justice, farming, philosophy. I actively work to balance out the white male default in what I read, but have a long way to go.
He/they for the praxis.
This link opens in a pop-up window
User Activity
In the Spring of 1981, Usenet had grown to the point where it was awkward to use A-News. It was important to read news in newsgroup order (not by time of arrival) and to quit in the middle leaving some news unread. Also, the user interface of A-News resembled V7 /bin/mail, and users were express- ing a preference for other e-mail styles.

By then Horton was finishing his dissertation, so he did not have the time to do the needed work. Fortunately, however, as Horton recounts, "One day, into my office walked Matt Glickman. He was a local high-school student on spring break, looking for a computer project. We teamed up to design B news, and he did most of the coding that week. I'll never forget the smile on Matt's face when he told me, 'You know, you've made my spring break!'"
Thoughts for outgrowing feed stream interfaces on the fediverse, and enjoying your school breaks.
anti-globalization feminism
5 stars
An effective thematic collection of essays (1975-2011) that aren't too repetitive and yet each stands alone well, arguing from an anti-exploitation feminist perspective for housework and carework to a) be recognized as an unpaid foundation of capitalist society, b) organize and refuse being atomized and devalued under this society - from rejecting earlier feminist/leftist legitimizing of only workforce participation to globalization's outsourcing and industrializing of the home, and c) be understood as a collective social responsibility integrally valued in reproducing the society we want. A lifetime's vibrant perspective.
Sharp satire about hubris and business and PKD's mind-bending doubts about what is real and what is in your mind quite explicit here, aged better than most things of this era... and I ultimately didn't care much about where the story went.
The political foundation of Wages for Housework is the refusal of this capitalist ideology that equates wagelessness and low technological development with political backwardness, lack of power and, ultimately, with a need for capital to organize us as a precondition for our getting organized. ... Our rejection of leftist ideology is one and the same as our rejection of capitalist development as a road to liberation or, more specifically, our rejection of capitalism in whatever form it takes.
From the essay "Counterplanning from the Kitchen", 1975.
amply delivers on a unique biographical perspective
4 stars
Capable biographical memoir, intentionally capturing her personal insights into her parents lives and the varying ways they sought patterns of meaning in the world around them. Both of them are more interesting to me now, and the habits of introspection and analysis they openly developed in their daughter shine through here.
Cinematic whodunnit, some of the turns from dialog to narrated action here are wonderfully written, I might watch the movie, but I'm ready to admit that noir fiction's male navel gazing is not my reading pleasure.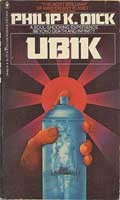 Ubik, written in 1966 and published in 1969, is one of Philip K. Dick's masterpieces (The Three Stigmata of Plamer …
captures peak hedge fund mania?
3 stars
Lessons to be learned about hubris and mathematically-backed ideological confidence, Wall Street's internal FOMO and ruthlessness, and just general foolishness. Diversification is misleading when all the same investors are in all the same markets. Title is unsupported in this narrative, there's little genius on display here, and suffers somewhat for being written so soon after the event. The details are clear after 50 pages, followed by a lot of blow-by-blow.
creepy magic of higher education
4 stars
Interplay of subtle and disturbing otherworldly moments to capture so recognizably the transition from high school to college and the variety of struggles to grasp advanced subjects' - maybe math, maybe language, maybe psychology or sociology - beauty and explanatory power.
These resonances between the personal and the professional are the source of both insight and error. You avoid mistakes and distortions not so much by trying to build a wall between the observer and the observed as by observing the observer - observing yourself [...] All light is refracted in the mind. To look through such a lens it becomes important to know the properties of the lens. This is the scientific goal of biographical work on social scientists.
Until I was ten, I went to the Downtown Community School, a turbulent progressive school that Margaret worked hard to shape, a bus ride across town. After that, when she worried that although I had learned to love learning I didn't actually seem to know very much, I transferred to an excellent girls' private school on the upper east side
Captures the warmly positive yet analytical and retrospective voice of this book well.